Post by Dennis of Ravenscar on Jun 25, 2014 13:55:20 GMT
Robin Hood in Space
A Comparison of Robin of Sherwood and Blake's 7
By Lucy of Ravenscar


Blake's 7 has often been referred to as 'Robin Hood in Space', and as those of you who are familiar with the series will know, this is a reasonable comparison. The story of Blake's 7 is that of one man rebelling against an oppressive and unjust Federation, with the (sometimes reluctant) help of a few companions.


For those of you who are not familiar with the series I will try to give a brief summary:
Blake lives on Earth, in an enclosed dome, and is one of the privileged Alpha grades. Previous attempts at rebellion have caused the Federation to drug the food and drink of those who live in the dome, and it is only when he is told by a friend not to eat and drink that he is taken outside and told that he was the leader of the last abortive uprising. He has had his memories suppressed and was made into a 'model citizen' by the Federation. Whilst he is absorbing this information, the group of rebels who contacted him are massacred by Federation troopers. He is then arrested on falsified charges of child molesting. He is sentenced to life on a prison planet, Cygnus Alpha. On the way there he meets Avon, a cold, cynical character who was caught stealing millions from the Federation banking system and is an expert in computers; Jenna, a beautiful smuggler and pilot, who is the only woman on the prison ship; Vila, a Delta grade thief whom the Federation have failed to psychoanalyse into submission; and Gan, a large, peaceful man who went berserk and killed the men who raped and killed his wife. He has a limiter implanted in his skull which causes him to fall unconscious should he ever try to kill again. Blake makes an attempt to take over the prison ship which fails due to the extreme ruthlessness of the first officer, who kills prisoners until Blake gives himself up. The prison ship is caught up in someone else's space battle and they find themselves alongside a massive alien ship, which appears to be unoccupied. Men go over to investigate but are killed or sent mad, so Blake, Avon and Jenna are sent over. They discover that the ship has a self-defence mechanism, which they overcome, and they manage to take control of the ship, which calls itself Liberator. It is highly advanced, having an intelligent onboard computer called Zen, it is faster than any Federation ship and is self-repairing, and it has a teleport system. They rescue Vila and Gan from the prison planet, and Blake decides to start fighting back against the Federation. Avon is not keen on this: he would rather get as far away from the centre of the Federation as possible, hide and make a new life for himself. Vila is of much the same opinion. Jenna is pragmatic, but admires Blake's ideals and agrees to help; she is essential to pilot the Liberator. Gan is a true idealist and is happy to go along with Blake's plans.
They start a series of attacks against the Federation, gaining a new companion along the way: Cally. She is a telepath from the planet Auron and the only survivor of a group of freedom fighters.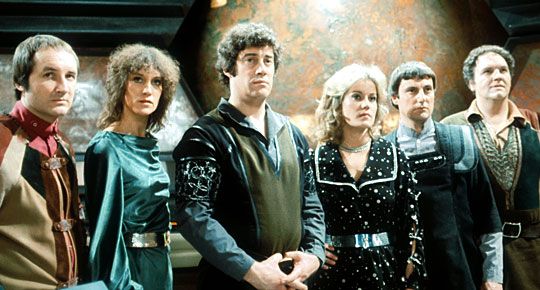 Vila, Cally, Blake (in quite a Robin Hood-style outfit), Jenna, Avon and Gan.


Their actions soon gain them the attention of the Supreme Commander of the Federation military, Servalan. She is utterly ruthless and power-hungry, willing to do anything to maintain her position and, ultimately, attempt to become President. She authorises Space Commander Travis to seek, locate and destroy Blake and his crew, preferably gaining control of the Liberator in the process. Travis has a personal grudge against Blake: he ambushed a rebel meeting and was shot by the rebel and left for dead. He now wears an eyepatch and a prosthetic hand (with built in weapon!).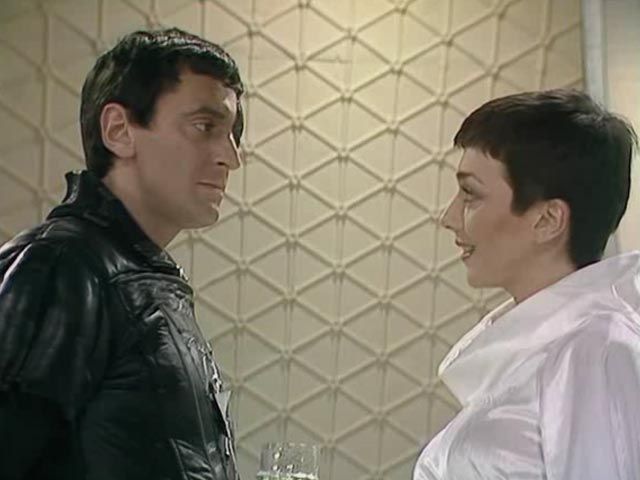 Travis (who is played by two different actors) and Servalan.

The crew of the Liberator then get involved with various alien races, get caught up with and try to thwart some of Servalan and Travis' schemes and plans. One of these is the acquisition of a bad-tempered super-computer, Orac, which has the ability to communicate and interfere with any other computer, and to effectively see into the future. The rebels get to it first, thereby acquiring another useful weapon against the Federation.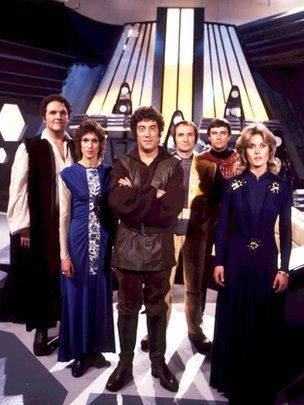 Blake then starts the search for the Federation's central computer, that controls almost everything that happens on all the federated worlds, including climate control, and the traffic between them. After one attempt leads them into a trap on Earth, causing the death of Gan, the crew eventually track down the control centre, Star One, to a planet at the very edge of our galaxy. Once there they stumble on an attempt by aliens from the neighbouring Andromedan galaxy to destroy Star One, with the help of Travis, and then to invade. Blake has to give up his plans to try and prevent this. Travis is killed and the Liberator leads the Federation in repelling the Andromedans. This ends the second series.

In the ensuing chaos Servalan becomes President of the Federation, Blake and Jenna are lost and the Liberator picks up two new crew members. Dayna is a young woman who has lived with her adopted sister and her father, a refugee from the Federation, on a remote planet since she was a baby. Avon and Servalan both crash there during the war, Servalan kills Dayna's father in the attempt to obtain Orac, and Avon takes Dayna back to the Liberator.

Tarrant is a young Federation pilot who defected and became a smuggler before the war. He gets involved in the conflict and, impersonating a Federation officer, tries to claim the Liberator as salvage. After fighting off a group of real Federation soldiers he also joins the crew.

Tarrant, Dayna, Avon, Cally and Vila.

During the third series the characters are more confused. With no Blake to lead them, and nothing particular to aim for, they spend their time avoiding Servalan, trying to survive and searching for Blake. At the end of the series Servalan lures them into a trap, Liberator is destroyed and they are trapped on an unstable planet. As the 4th series starts Cally is killed in an explosion while the others are rescued by a very suspect character. After his death they inherit his base on a remote planet, his small spaceship and his companion Soolin. She is an expert gun fighter who devoted her life to killing the men who killed her family when she was a girl.
The fourth season crew with new character, Soolin.

In the fourth and final series the characters are even more desperate and directionless. Eventually Avon tracks down Blake, who is working as a bounty hunter. Feeling that he has been betrayed Avon shoots and kills Blake, then Federation troopers invade the base and shoot the rest of the crew. We are left with an image of Avon standing over Blake's body, smiling insanely at the troopers surrounding him.

Certainly, the first two series of Blake's 7 bear comparison with Robin of Sherwood. The basic theme is rebellion against a corrupt administration and the main character of Blake is certainly a Robin Hood figure, a fugitive from justice who tries to do good. As far as direct comparisons with RoS go, Blake could be seen to be closest to Robin II with his privileged background, although when we first meet him nearly all Earth citizens are repressed, and his family has been killed, so he does bear some similarities with Robin I. He is certainly a charismatic leader, and doesn't even have the assistance of Herne to help convince his 'followers' that he is doing the right thing. Blake's companions are far less keen to go along with what he wants; although the outlaws argue with Robin they do tend to accept his authority. They agree with his motives whereas the characters in B7 are more reluctant, and don't see themselves as do-gooders. Blake almost has to force some of them, particularly Avon, to go along with his plans, and only Cally, Gan and sometimes Jenna really share his dream. Where both Vila and Much might be reluctant to do something because they are scared, Much believes in Robin, and so will do it more willingly. When Blake leaves the group all intentions to achieve any kind of rebellion are lost and only Cally keeps any kind of moral backbone amongst the crew.

While the similarities between Blake and either Robin are quite apparent, there is less of a direct comparison between the other characters. However, there are about the same number of characters in each series and the characteristics within each group are quite similar.

Avon has some attitudes that are comparable to Scarlet's; he is the one most likely to argue with the leader, but Scarlet is rough and passionate where Avon is smooth and cool. They are both quite sarcastic, but Avon is by far the best at it. There are some surface similarities with Nasir: Avon was a bit of an outsider to the group originally, they both have a competent, professional, no-nonsense attitude, and they're both partial to wearing leather and studs!

One might think that Jenna is similar to Marion, but although there is a definite spark between her and Blake a relationship is never established between them. In fact, there is no strongly comparable character to Marion in B7, and this shows up a difference between the series. Both series are named after their main character, so each is clearly supposed to be the most important character. In the case of RoS Richard Carpenter made an effort to bring the other characters to the fore (and in the main succeeded), but, mostly due to the legendary elements of the story, Robin is still definitely the central character, and Robin I's established relationship with Marion seems to reinforce this, as does the long running and unswerving affection that Robin II has for her. In B7 some of the other characters managed to equal Blake, especially Avon and Vila, enough to make two series without the title character feasible.
Jenna is much more a mix of John, Scarlet and Nasir. Her smuggler background is reminiscent of both Scarlet's past as a soldier and Nasir's as an Assassin, and her skills as a pilot reflect the skills they bring to the group. She is also Blake's 'right-hand man' a lot of the time, a role that John frequently takes with Robin.

Blake's 7 doesn't share the romantic elements of Robin of Sherwood.

Vila is the everyman character and comic relief, a kind-hearted thief with a fondness for the booze. He is probably closest to Much and Tuck, the most ordinary and reluctant outlaws. However, none of the wolfsheads really have his rather dodgy background, and the humorous comments in the show tend to be shared between several characters. Where the outlaws are made up much more of characters who are innocent of any real crime (Much and Robin were imprisoned for poaching, Scarlet has a good reason for killing the men he did, and Nasir's previous existence as an Assassin is comparable to being a soldier), Jenna, Avon, Vila and Tarrant have all been criminals for personal gain.
Alien plant life is not quite as attractive as that in Sherwood.

Gan has a lot of similarities with John: he is a large, gentle giant, and he is as loyal to Blake as John is to Robin. With the death of his wife his background is almost exactly comparable to Scarlet's, although it seems that Will has always been an aggressive man, whereas it appears that Gan only 'lost it' that one time.

Being an alien, it could be said that Cally shares some similarities with the foreign Nasir, and her telepathy links in with some of the more mystical aspects of RoS and the influence of Herne. However, she is probably closest to Marion or Tuck, being willing to fight for what she believes in but essentially gentle and moral. She is loyal to Blake, and she loses heart during the third series after he has left.
Blake and his crew are assisted in their fight against the Federation by their alien spaceship Liberator, with its slightly mysterious, intelligent computer Zen, and later by Orac. Together these compare with the tactical advantage that Sherwood gives the outlaws, the mystical advice of Herne and to a lesser extent the power of Albion.

Next to Blake and Robin the most obvious similarity of characters between RoS and B7 is the villains. Servalan is a female counterpart to the Sheriff of Nottingham, apart from the way she moves through the system, going from Supreme Commander to President. This is obviously easier in a fictional rather than historical system, and she shares some characteristics with both King Richard and Prince/King John.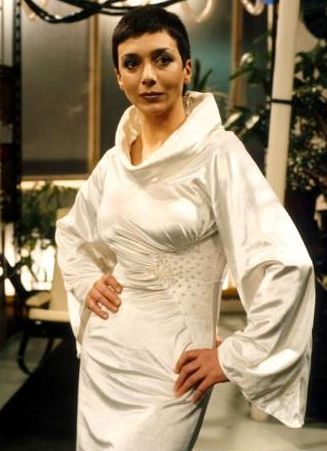 Servalan, camp and cruel.

Servalan and the Sheriff are are ambitious and amoral. Neither is gratuitously cruel on a regular basis, though Servalan tends towards the sadistic the further through the series you go. They are both fairly vain and camp, though Servalan is more sexual: she uses her body and feminine wiles where the Sheriff would use his sarcasm and wit. That's not to say that she can't make cutting comments, but mix a bit of Philip Mark with Robert de Rainault and you're getting a little closer to her character.

They are both pretty competent; they don't suffer fools gladly; and they believe in the system they work in, although they're never against using it to increase their power or profit. Both become obsessed with their adversaries, Servalan more so in the latter two seasons of B7. They are great villains: over-the-top but still three-dimensional enough to be interesting.

Equally, Travis and Gisburne, being in the traditional role of 'bad guy's sidekick' are reasonably comparable. Travis bears a personal grudge (fairly unjustly) against Blake and this increases as he fails to catch him. They are both failures in this sense, but in Travis' case it causes him to go over the edge. They both resent their employers, Guy probably more so, and one feels that he considers the Sheriff to be more of a thorn in his side than the wolfsheads. Travis puts up with Servalan as long as she can help him get Blake, although they are both used by their superiors. Travis becomes more inhuman throughout the series, whereas we become more sympathetic with Guy as we learn about his childhood. They both start off as fairly hard, cold military types keen to apprehend those they see as criminals; they have no imagination to allow themselves to have any sympathy with anyone else, although even by Federation standards Travis is considered brutal. He is sentenced to death for his part in the massacre of hundreds of civilians and after he escapes he becomes increasingly unstable and psychopathic, willingly helping an alien race that intends to destroy all of humankind. There are shades of this in Gisburne's behaviour in The Time of the Wolf, but given that massacring villagers is considered acceptable by the Normans, I can envisage redemption for Guy but not for Travis.

Travis turns on Servalan.

Once Blake leaves the series the theme of rebellion is to a large extent lost. Imagine seeing what happened to the outlaws after Robin's death; if they had stayed together but there had been no Robert of Huntingdon. Without Robin they all lost the spirit to continue with the fight, and this is what happens to the crew of the Liberator, making, in my opinion, a very interesting, if frequently depressing, story. Even so, the new additions to the crew do share some characteristics with the outlaws.

Dayna is a young, passionate and aggressive fighter, whose family have all been killed, so apart from her lack of experience her closest counterpart in RoS would probably be Scarlet.

Tarrant is to some extent a replacement for Blake, without his strength of idealism or maturity. There is some similarity to Robin II with his exuberance and fairly privileged background. They share some characteristics, but Tarrant becomes a darker character due to the rivalry with and influence of Avon, and the situation they were in. Avon does not want to be leader of the group, but he will not follow Tarrant's lead, so as a group they are not very cohesive.

Soolin is an excellent fighter with a tragic family background, so sharing characteristics with Nasir and Scarlet. It is hard to know how she would have behaved with Blake, but he tended to bring out the best in people, such as Jenna. To quote from RoS: "The fire burned bright in him, and for a while it warmed us all."

Tarrant would probably have worked well together with Blake, as would Dayna, to create something stronger, but Avon encouraged their selfish rather than selfless instincts. In fact, it is probably the character of Avon and the influence he has on the other characters that is the largest difference between RoS and B7. Where Scarlet is willing to admit his feelings for his friends, despite his distrust of most other people, Avon is too repressed to ever do this, or even to admit them to himself. His cynicism causes division amongst the crew, but it also makes him a very fascinating character and leads to the darker feeling of the programme compared to RoS. Take this quote from the episode Star One (last in the second season) as an example.

Blake: "I meant what I said on Goth, Avon. We are not going to use Star One to rule the Federation, we are going to destroy it."
Avon: "I never doubted that. I never doubted your fanaticism. As far as I am concerned you can destroy whatever you like. You can stir up a thousand revolutions. You can wade in blood up to your armpits. Oh, and you can lead the rabble to victory, whatever that might mean, just so long as there is an end to it. When Star One is gone, it is finished Blake. And I want it finished. I want it over and done with. I want to be free."
Cally: "But you are free now Avon."
Avon: "I want to be free of him."
Blake: "I never realised. You really do hate me, don't you?"


All is not necessarily sweetness and light in Sherwood, but there is always a feeling of hope, even at the most desperate moments in the series. When Robin I dies, when Marion leaves, the outlaws all find strength in one another. They are much more emotionally developed than the characters in Blake's 7.

As I have already mentioned, the central theme of rebellion is what obviously links the two series. However, there are strong differences in how this is executed in each show. In RoS we know that an all out rebellion would be hopeless as we know the history of the period. Other versions of the Robin Hood story, looking for that elusive happy ending, have a tendency to end with King Richard appearing and stopping the (often particularly malevolent) Sheriff of Nottingham or Prince John in their evil ways. However, we know that the social system of the time was not going to change. To some extent, both Robins realise this. Robert of Huntingdon could have become a benevolent Earl if he'd wanted to, but he would still only have been able to affect a limited number of people, and he would have had to work within the law and the restrictions of politics, as his father has to when he is constrained from helping Richard of Leaford. Robin Hood is "the people's hope", not for a change in the system, but to show that wherever there are people like the Sheriff - uncaring of the fate of the little people and willing to shaft them whenever it suits his purposes - there is someone who will help them, fight for them, care about them. "It is enough to aim": he doesn't have to achieve major changes, just try to help those he can and be selfless.

This is where Blake's 7 shows the other side of the coin. Blake is constantly trying to achieve things, change the system, and given the purely fictional nature of the series, we could have expected to see these changes happen. Blake wants to overthrow the system, but we never hear how exactly he intends to do this, and what he intends to replace it with. He is so intent on the ends that he seems to forget about the means. He attacks military installations and eventually becomes obsessed with finding the computer control centre for the whole Federation, Star One. Avon initially assumes he is going to use it to take control of the Federation, but in fact he intends to destroy it to cause chaos. This conversation from Star One shows how he has started to think.

Cally: "Are we fanatics?"
Blake: "Does it matter?"
Cally: "Many, many people will die without Star One."
Blake: "I know."
Cally: "Are you sure that what we're going to do is justified?"
Blake: "It has to be. Don't you see, Cally, if we stop now then all we have done is senseless killing and destruction, without purpose, without reason. We have to win! It's the only way I can be sure that I was right."
Cally: "That you were right?"

Along the way he helps other revolutionaries and oppressed peoples, and certainly assists some planets in ceding from the Federation. His reputation also encourages others who hope to fight against the system. Unfortunately, his attempts at political takeover of the Federation are doomed to failure as they have frequently been set up by Servalan. He also tries to ally himself with a mafia-like criminal organisation, ill-advised enough in itself, but they are actually a front for part of the Federation.

When they discover the Andromedans' attempt at invasion they have to work with the Federation to try to defend our galaxy. Blake's plans are ruined, but he chooses to do the right thing. The chaos he had hoped for does ensue, but Blake is lost and Avon and the others do not have the will to do anything about it except do their best to survive.


During the first two series, episodes that are not focussed on the crew's rebellious activities often centre around alien races or criminal types, and are therefore quite similar to many RoS episodes. For strange powerful alien race that interferes with the Liberator crew, read powerful enchanter who attacks the outlaws. For Amagon pirates read Brabancons. In one episode of Blake's 7 Servalan has a clone of Blake created to use against him. Remind you of Gulnar and his clay man? Not necessarily exact comparisons, but the alien and supernatural elements of either series add to their interest and introduce a more random element to the characters' lives.
So, Blake's 7 and Robin of Sherwood do have a lot in common, particularly if you take the first two series of B7 (which incidentally consist of 26 fifty minute episodes, comparable to the three series of RoS). Not just because they are both about outlaws and idealists, but because the mystical and magical elements of Richard Carpenter's series coincide with the fantastical and science fictional parts of Blake's 7.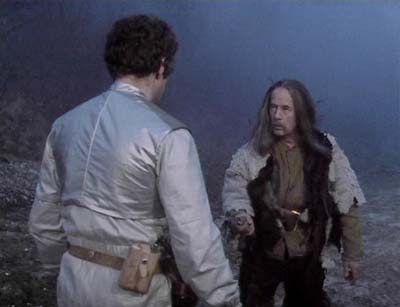 John Abineri appears in Blake's 7 as Blake's uncle Ushton.

What differentiates the two series, and why I personally enjoy them equally, is their tone. Blake's 7, despite what you might think if you're not into science fiction, is realistic. Things frequently go wrong for the crew, their behaviour is not impeccable, they argue a great deal, they are hurt and they usually don't know what to do about it. They feel they are stuck with one another, and they don't understand how important they are to each other. Avon snipes at Blake almost continuously when he is there, but once he is gone Avon becomes obsessed with finding him, still without consciously realising what he has lost. It was shocking in Herne's Son to see what had happened to the outlaws. They were all so hurt and lost without Robin, and this where you see the tone of RoS become close to that of B7. The difference is that the rest of the time they understood what they had, and Robin II reminded them when they had forgotten. They realised how much they relied on one another, and how valuable they all were. No one ever suggested that they should dump Much, whereas it was suggested in B7 that Vila was dispensable. The wolfsheads would all have given their lives for one another; in fourth season B7 the characters had to watch their backs around each other. The difference was hope. Blake's 7 became a tragedy, and I enjoy (if that's the right word) a good tragedy. It was painful to watch Avon kill Blake in the final episode, to see the rest of the crew gunned down, but it was right. It fitted.

It was painful to see all those outlaws killed in Robin Hood and the Sorcerer, it was heartbreaking when Robin was killed, but there was always hope. The dream survived. Even when Marion left, we knew that Robin would survive, that the others would help him, that they would keep fighting. That's what makes RoS so good - it takes realistic characters with flaws and puts them in realistic situations but it still makes us believe that there is hope, without ever becoming saccharine or overly sentimental. There is tragedy below the surface, but unlike Blake's 7, it never quite defeats the characters.
This article first appeared in Nothing's Forgotten newsletter issue 9, June 1998